Healing Arts and Support:
Cancer Services offers free monthly Healing Arts programs. Sessions are open to local cancer patients, their caregivers, and those coping with the cancer diagnosis of a loved one. If you or your loved one are a resident of Erie County, Huron County or Ottawa County we welcome and encourage you to join us!
PAINTING ON CANVAS DAYS:  CANCELLED UNTIL FURTHER NOTICE DUE TO THE COVID-19 CRISIS call 419-626-4548 for information on our Healing Arts at Home kits!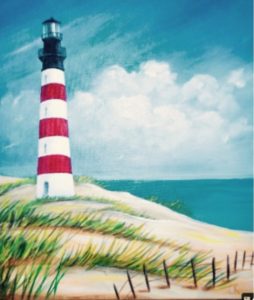 Painting on Canvas: Painting on Canvas Sessions take place in a relaxed supportive setting. Volunteer and cancer survivor, Deana Gonzalez donates her time and talent along with Staff and Volunteers to share the positive affects of creativity on the mind and body. Deana used painting as a way to cope with her diagnosis and battle with cancer. Participants are encouraged to share their journey at their own comfort level. Light refreshments and all supplies are provided and there is no cost to attend.
JOURNALING WORKSHOPS:
Our generous donors have made it possible for every cancer patient and their caregivers to receive a Journal/Planner. Sessions include journal, markers, light refreshment and information on the benefits of journaling. Many families find keeping track of appointments, new medications and coping with all of the new emotions that accompany a cancer diagnosis overwhelming. Research has shown a significant benefit to journaling when coping with a cancer diagnosis. If you're new to journaling and would like some tips to get started we are happy to help!
A special thank you to the Norwalk Area United Fund for their generous contribution and continuous support of our Healing Arts programs!