Join our mission as a Third Party Fundraiser or as a Year-Round or Event Sponsor:
We receive support throughout the year from AMAZING community members through their partnership as third-party fundraisers, year-round sponsors and event sponsors! These events make a large impact for the cancer patients and families we serve. Below are some of the third party fundraising efforts that currently benefit local cancer patients and some ideas you might consider. When time permits, we are happy to come to your event to help share information about Cancer Services. We can also supply brochures and marketing support for your event.
Year-Round Sponsors:
Year-round corporate sponsors contribute major gifts to Cancer Services. These partnerships help us expand our Patients Services Programs, host events and provide community outreach.


A SPECIAL THANK YOU TO OUR YEAR ROUND CORPORATE SPONSOR: Beck Oil / Friendship! Their partnership with Cancer Services supports our Patient Services Program, daily operations and helps ensure that we can serve every cancer patient that comes through our door.
Third Party Fundraisers. Thank you!:
Alexis and Mercedes Fox:  These two amazing little girls work together every year to raise funds for Cancer Services! They host an annual lemonade stand and sell homemade bracelets at local events and in our office. Alexis and Mercedes also requested donations to Cancer Services for their Birthday gifts this year! They are two inspiring young ladies.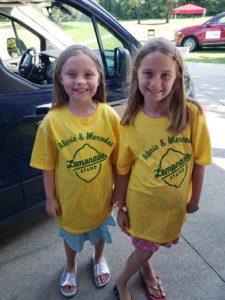 Volley For The Cure: Perkins High School students, staff, and volunteers hold this amazing event every year!
Margaretta Local Schools: Donated funds from their "hat day" fundraiser.
McGraw Lighthouse Memorial Ride: An annual event to honor Kristi and Perry McGraw
Lake Shore Corvette Club: raises funds each year for Cancer Services.
Croghan Colonial Bank: Contributed the proceeds from their Employee Giving to Cancer Services!
Gar-Nay's Winery: Hosted an event to benefit Cancer Services IN HONOR OF Barb Schafer.
First Federal Savings of Lorain: Contributed the proceeds from their Employee Giving to Cancer Services!
Plum Brook County Club: Hosted a Ladies Outing for Cancer Services!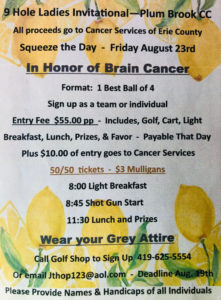 LOCAL 1216 Women's Committee: Raised funds through their T-shirt fundraiser.
Corso's Flower and Garden Center: Hosts an annual event that benefits Cancer Services!
Vacationland Federal Credit Union: Employees wore pink in October and raised funds for Breast Cancer Awareness!
More Ideas!
Amazon Smile: Register with Amazon Smile and a percent of every purchase you make will be donated to Cancer Services. Register today HERE
Kroger Community Rewards: Choose Cancer Services of Erie County as your charity of choice and a percent of your purchases will be donated back to Cancer Services.
Facebook Birthday fundraisers: FREE and simple! Schedule yours today HERE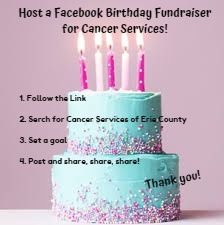 Yard Sale: Clean out your unwanted items and get your neighbors to do the same!
School and Classroom Fundraisers: Children love to help! Share our story with your children and encourage them to brainstorm a fundraising idea with their classroom or school. You'll be amazed at the ideas children come up with to give back to their community!
United Way: If you participate in your local United Way campaign "designate" your gift to be contributed to Cancer Services of Erie County.
Employee Matching Gift Program: Ask your employer to participate in a matching gift!
Business Fundraisers: If you own a business you can host a "dine-out" night or a "percent of the sales day".